Happy month of July – the month of bloom and simplicity.

This month we will focus on
aparigraha-sthairye janma-kathantā-sambodhaḥWhen the Yogi is established in aparigraha, non-possessiveness, knowledge of the past, present, and future and the 'how' and 'why' of life is realized.

PYS 2.39

Aparigraha means non-acceptance of gifts, non-hoarding, being free from greed, being free from rigidity of thoughts and free from clinging to paradigms and opinions. In a positive sense, grasping is replaced with the practice of generosity, gratitude, contentment, and respect. Sthairye is being steady, stable and fully trusting in this practice

Every spiritual tradition has recognised that a simple life is conducive for practices of enlightenment and spiritual realisation. Monks and nuns in monasteries and ashrams generally possess only a couple of identical robes. Some use begging bowls for food and alms. Meals are often minimal, vegetarian or vegan. Many shave their heads to minimize ego, and most engage in Karma Yoga.

Asana and meditation practices are about simplicity. All we need is a mat, our bodies, minds, and breath. Every day, we take a break to let go of outer distractions, grasping and greedy tendencies. We allow the necessary spaciousness to emerge that we can reach a state where we are missing nothing. In Sutra II.39, Maharishi Patanjali suggests that the practice of Aparigraha will ultimately reveal why we were born. It is not only the understanding of past, present and future births, but also of our true purpose in life.

FOTM Written By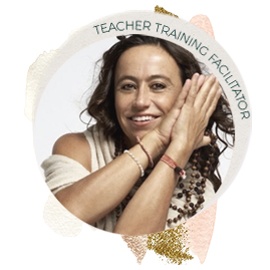 YOGESWARI
We have a number of classes, workshops and socials coming up over July & August keeping our Feel Good Connected in the simplicity of this beautiful practise we call Yoga  – on and off our mat.
Please note on Saturday 9th July our classes will be on Porthgwidden Beach with slightly different times due to our studio being in an exhibition.
Our next Monthly Workshop will be a divine Yin & Yang + Breakfast on Sat 22nd July 9:30am – 11am
And Feel Good Club BBQ Social will be on Friday 18th August
All available to book below, via website or via the app.
As always you are able to access our classes OM Demand via our very our Showcase Wellbeing TV channel at ShowcaseCo.uk/Om-Demand  and all in person and live stream classes can be booked at ShowcaseCo.uk or via your app
Namaste All Damn Day – Keep Practicing

Booking Ahead

If class is full don't forget you still have your online options to join us live from the comfort of your own home or by visiting our on demand portal where you can access classes from anywhere in the world 24/7 this access is part of our monthly membership or you can purchase a OM – demand membership for just £14.99 a month or rent pay as you go from as little as £1.99 per class on demand
View and Book Complete Class Schedule for the week and Month ahead: